The Brooklyn Mile, what a great event!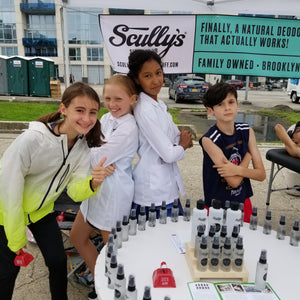 We had such a blast yesterday at the Brooklyn Mile event in Williamsburg. Not only did we erect our first tent and sign (shout out to Eurmax - their tents are superb!) but we were situated on the gorgeous, albeit extremely soggy from rain- Williamsburg waterfront. We were hanging with Finish Line Pilates Physical Therapy, SLT, and Mile High Run Club in runner chill-zone and award pad central. It felt great to be associated with such fine NYC sports establishments as we cheered, ate bagels, spritzed Scully's on our visitors and supported Girls on the Run. Thank you Brooklyn Running Co. for being such an amazing partner!
Our A-team of helpers was there as well (see pic), and they ran the mile and got some super fast times (1 mile in 8.15 mins -- go 10-yr. old Nate!). We also got some great video testimonials from runners using and loving Scully's! 
It's rare and exceptionally special when family, work and exercise can collide in the magical way that it did yesterday, and we are feeling so very fortunate to be doing what we love and sharing it with the community. Feeling tingly....